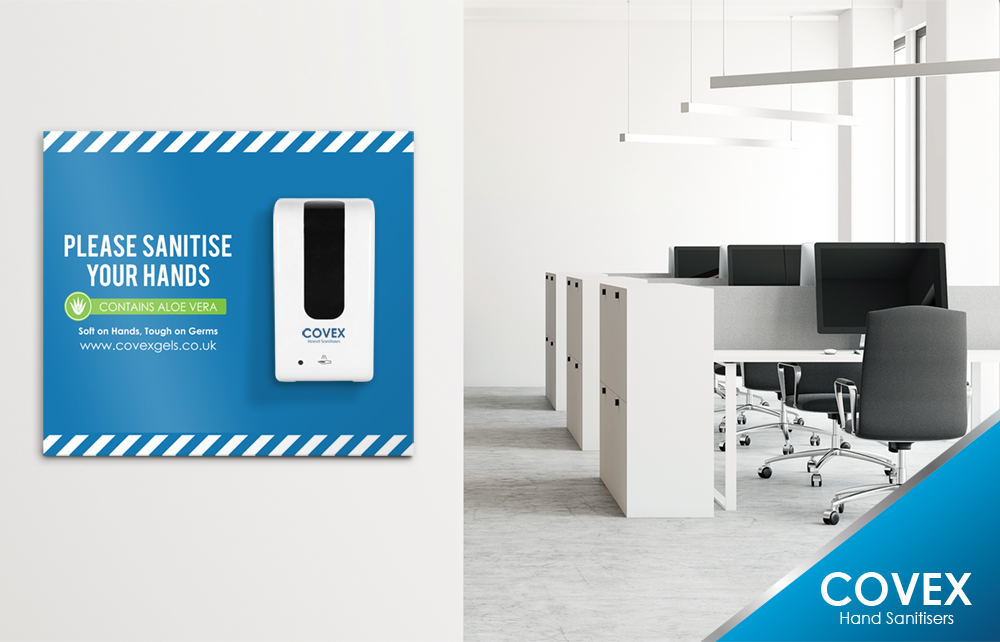 Preparing to return to the workplace safely after COVID- 19- Covex Gels
Many businesses and offices have now been closed for three months. Whether staff members have been working from home, or work has been stalled completely, returning staff to the workplace can seem like a difficult task. While restrictions are still in place, and the safety of your staff members remains a priority, it is important to be prepared and take steps in advance.
Every workplace is different with its own unique set of obstacles, but we have compiled a helpful list of ways you can prepare for returning to the workplace suitable for any type of business.
1 - Follow Government Advice
This may seem like a simple step, but it is an important one. Government guidance has been laid out to keep our country safe while helping businesses to open once again. On the Gov.uk website, you can find articles with advice and guidance on how to safely reopen your workplace - with guidance given per sector.
You can find advice for your sector here: www.gov.uk/guidance/working-safely-during-coronavirus-covid-19
2 - Review Your Working Environment
A great way to start is by reviewing your workplace and how your business functions within the space. What changes do you need to make in each area to keep your staff members safe and business functioning? Here are a few questions you can ask yourself to help with those decisions.
Can staff maintain a safe distance between each other?

How will you manage meetings, interviews, and other interactions?

What areas are communal (kitchens, canteens, toilets etc) and what are the risks associated with these areas?

Can staff work in smaller groups or can you stagger working hours to have fewer members of staff working at once? Would this benefit your business?

Can you implement one-way systems or one-in-one-out in certain areas?
3 - Keep it Clean
The best way to keep everyone safe is to make sure that your work environment is clean and sanitary. During the Coronavirus pandemic, this has been more important than ever before. What extra cleaning strategies can you implement to make your workplace secure?
Cleaning the workplace frequently and thoroughly is a good start. Perhaps your weekly cleaning routine now needs to happen every other day, or even daily? Focus on areas that staff members will have physical contact with, especially areas used with high volumes such as toilets and kitchens.
4 - Protect Staff with Hand Gel
Hand sanitiser gel is a fantastic way to protect your staff in a simple and cost-effective manner. Hand gel can be placed in convenient places for staff members to regularly sanitise their hands, killing germs and protecting them against the virus.
Use wall mounts and touchless dispensers in areas that staff members visit frequently; particularly at any entrances or exits. Wall mounts in prominent places provide a reminder to sanitise.
You can buy sanitiser bottles in various sizes, and large containers to refill those bottles, plus wall mounts and touchless dispensers from Covex Gels. click here to view our products.
5 - Educate Your Staff Members
Staying safe is a cooperative game. So, educating your staff on how to stay safe and clean will make all the changes and effort you put in worthwhile. Make staff members aware of the steps they can take to keep themselves and their colleagues safe while reassuring them that you, as a business owner, are putting the work in to make the workplace a safe place to be.
Using simple posters with advice and guidance around the workplace acts as a gentle but effective reminder of how to stay safe. You can download our free health and safety posters here.
7 - Research and research some more
There are some fantastic articles with advice on making your workplace safe after COVID-19 available online written by reputable companies. Knowledge is power, so do your research and stay up to date with the latest advice.
Due to the nature of the pandemic, guidance is likely to change over time. So, staying up to date with the latest advice is the best way to ensure the safety and wellbeing of your staff members. Make sure you are regularly updating your procedures to stay in line with the latest guidance.
Here are a few helpful articles to get you started:
As businesses start to reopen, safety is as much a priority as profit. Every workplace is different and will require its own procedures and changes made to be safe for return. Keep your business adaptable to change alongside the guidance given and changes in rules and restrictions.
If you would like to talk with the Covex Gels team about how we can help keep your workplace safe, get in touch today. Our products are available with express delivery and in large quantities to suit every business.